Last evening I stood at the base of a 80' Pin Oak, my feet clad in stockings resting on the enormous bark covered roots extending into the earth at the base of its trunk. I stretched my head back almost painfully far and allowed my eyes to scan up its trunk, out its large branches to its smallest twigs, thousands of them, stretching out into backlit, moon filled sky above. Every cell of this tree stretched against the bark in balancing act so perfect that if any more effort were exerted the tree would explode and if any less effort were exerted the tree would collapse on itself. Everything it had was reaching to the sky. Everything it had was grounded in the earth. It gave everything it could to just being in completely alive, exposed in all of its vulnerability to anything and everything that might come its way. This tree was simply showing me its enormous will to live.

I was in awe. As I glanced down the trunk to the grass, to the bushes in the back yard, to the flowers in the case, I saw they all stretched, in complete vulnerability, with their own will to live. Then I realized something I had been missing for 49 years, this was not a collection of things with individualized wills to live, this was a shared will to live, it was actually the collective divine expression that I was seeing and sensing. Everything is sharing this as everything is divinity expressed in its fullest most beautiful form. I realized everything my eyes landed upon displayed this will, this divine expressiveness right there in the open, me included. I had this in common with everything I saw, always.

The lack of a will to live, the lack of a want to carry on this divine expressivenesss, the lack of being out there and completely vulnerable only occurres because of suffering created within the human mind and ego. Outside of the mind the nature order is this divine expression, this perfectly balanced will to live in complete vulnerability. I realized that when I find the courage to align to this vulnerability my life flows and it flows because I am simply aligned to the natural order of things.

My life, whether I know it or believe it or not, is always being expressed in its most beautiful expression but what I realize now is I can step out of the way a bit more, find the courage to be completely vulnerable and trusting, align to my highest self and make my expression the most divine aligned expression I can make it and I can look to nature to remind me at every instant, how and why this should be.

EVERYTHING you see is literally the universes expressed will to live, the fulllest expression of divinity. Take a second to look around and feel that.

Ekam Evadvitiyam Brahma (Brahman (God) exists without second).

May you be blessed to witness this, blessed to experience this in the most profound and transformational way today. Bless you.
Powered by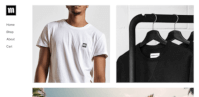 Create your own unique website with customizable templates.