Brahman exists without second. This is the second of the 7 great utterances. I invite you to find time to sit with this sentence. I invite you to find time to be open to its suggestion of what is occurring in this reality. I invite you to explore your own experience through a deep questioning on whether this sentence is true in your direct experience. Do you see this as true, viscerally, in the body, not the mind? As you begin to slow or quiet the mind, as you begin to connect and fully rest in awareness, see what inner truth is provided to you about your experience of this wonderful sentence. It is in this silence, in this inner laboratory of contemplation, nestled in a heart felt desire to know the truth, that the truth will be revealed.

I have sat with the 7 utterances for roughly 2 years. This particular one, and the 4th one tvat tvam asi (I am that or that I am) really resonate with my inner satguru. Within the last few months my experience has shifted allowing me to more naturally "see" through a felt sense of both connectedness and knowing the truth behind this sentence. The sentence is taking on a lesson of its own, showing reality as it is occurring and how it is occurring. This was my experience with my post on

Divine Expressiveness

. This was my experience with my friends watching a movie the other night. This was my experience walking the dog this morning. Singularity of of the fabric in which all exists and is manifested from.

As you explore your reality, as you explore this sentence, I want to provide you with an additional pointer. Become aware of that which is not there. Become aware of the space between objects. Become aware of the silence and stillness that surrounds the sounds you are hearing. See how sound manifests from and falls back so naturally to silence. Become aware of the void of silence and stillness that surrounds that which is outside of what you see and hear.

In our day-to-day lives it is easy to pay attention (or daydream from) that which we hear, see and feel in our lives. I invite you with this pointer to become aware of the space between the things being seen, find what rests outside of what is being seen and being heard. You may find there is more silence and stillness occurring within your experience, than there is commotion and movement. If you are blessed to see that, to sense it, maybe you will too will see or feel Ekam Evadvitiyam Brahma.

It is all divinity. Bless you.

May you be blessed to find the silence and stillness that washes over you in every instant of your day.
Powered by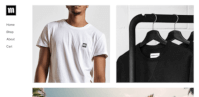 Create your own unique website with customizable templates.